Nordic-China High Tech Week 2019 is coming to Copenhagen on the 17th of September.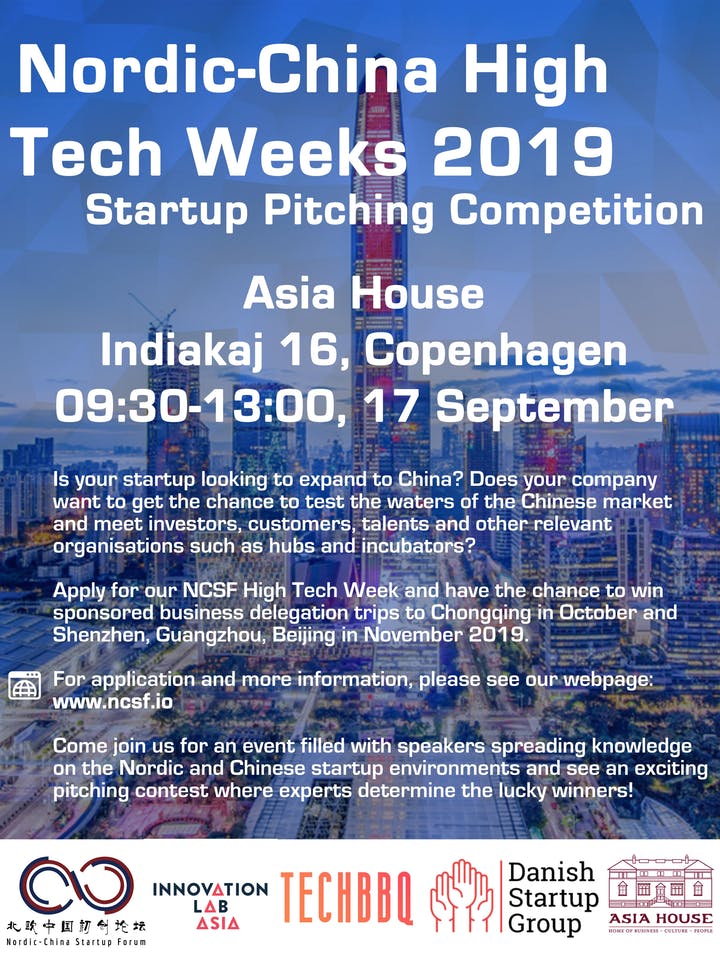 Join us for an exciting event filled with speakers on the Nordic and Chinese startup environment, tech and a thrilling startup pitching competition where an expert panel will decide the lucky winners!
The event will feature various speakers on the Nordic and Chinese startup scenes, tech, and a pitching sessions, where startups will have the opportunity to present their business concepts in front of a panel of judges. The participants will have a chance to win a free tailored business trip to China including the opportunity to meet with Chinese investors and VCs and get to first-hand impressions of hubs and incubators, customers and talents.
The event  is a collaboration between Innovation Lab Asia, Nordic-China Startup Forum, TechBBQ, and Danish Startup Group.
Attendance is free and and you can participate whether you are an entrepreneur, student or just someone with an interest in China.
Schedule (preliminary):
09:30-10:00 – Welcome and registration
10:00-10:10 – Introduction of NCSF and our Nordic-China Hi-Tech Weeks delegations
10:10-10:15 – Introduction of co-host: Innovation Lab Asia
10:15-10:25 – Inspirational speaker: TBC
10:25-10:30 – Start of competition and presentation of judge panel (see below)
10:30-10:50 – First pitching round (5 companies x 4 min)
10:50-11:00 – Judge panel Q&A
11:00-11:15 – Coffee break
11:15-11:35 – Second pitching round (5 companies x 4 min)
11:35-11:50 – Judge panel Q&A
11:50-12:00 – Short break
12:00-12:10 – Presentation of winner
12:10-13:00 – Mingling and networking
Deadline for application is 7th of September.
Location: Asia House, Indiakaj 16, 2100 København Ø
Register here: Link