Innovation Lab Asia has asked a number of investors how they view Asia as an investment destination and what specific factors that influence their commitments to the region. Here's what they answered.  
For projects such as ours, with a strong focus on Asia, the survey provided a mixed bag of blessings: When looking to the present, the results was depressing (though not surprising). Only five (13%) of the surveyed investors currently hold investments in Asia, and only one of these are strongly committed to Asia. The other four have only a small or very small involvement with Asia. On the positive side, more than half of the surveyed investors (53%) would like to invest in Asian opportunities.

Barriers to growth
Taking a closer look at the perceived barriers – the factors that prevent potential interest in turning into real opportunities – an interesting difference surfaced between the 5 investors already active in Asia, and the 35 not active. For the 5 respondents already active in Asia, the main challenges were related to corruption, lack of transparency and political risks. However, the results should be handled with care due to the small sample size. For those not present in Asia, the main challenges revolved around a lack of knowledge and experience: Asia is too far away, too unknown, and the investors lack a trusted network. Lacking mandate was also mentioned as a real barrier (see also table below).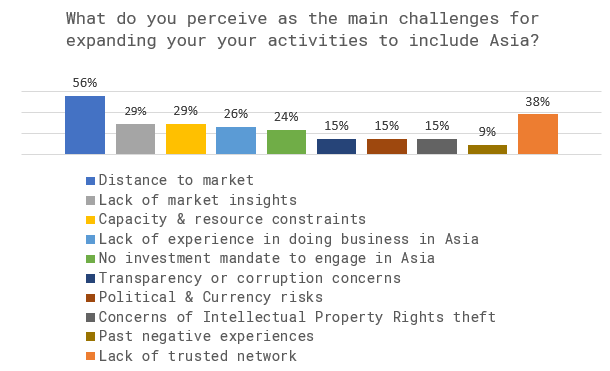 How to make a difference
When the 35 respondents not active in Asia were asked what would motivate them to start investing in Asia, the investors requested a range of investor activities as well as market insights (29%) and access to deal flow from Asia (26%).
This is very much in accordance with the perceived challenges mentioned above and again highlights the lack of knowledge and experience when it comes to Asia. However, the information allows us at Innovation Lab Asia to deliver more relevant and useful output.
How to proceed
The survey has found that investors are well aware of Asian opportunities but need specific insights in order to proceed. The call to action is clear: for the Danish startup ecosystem to better take advantage of opportunities in Asia, investors need access to Asian investors willing to collaborate with Danish counterparts. Investors interested in growing their network with Asian investors can follow Innovation Lab Asia's activities at TechBBQ 2019.
Make sure to visit our website and follow us on LinkedIn in order to get the latest news on market insights and events and contact us if you have any enquiries.